By Eric Patten
Hill joins Chauncey Billups as the second Clippers player in a row to win the Mannie Jackson Basketball Human Spirit Award. Hill was honored during a presentation Sept. 6 as part of the lead up to Saturday's Hall of Fame enshrinement ceremonies.
Clippers forward Grant Hill was selected by the Naismith Memorial Hall of Fame as a 2012 recipient of the Mannie Jackson Basketball Human Spirit Award. Hill, University of Connecticut head coach Jim Calhoun, and Founder and Director of the Institute for Diversity and Ethics in Sport, Dr. Richard Lapchick, received the award Sept. 6 during the events leading up to Saturday's Hall of Fame enshrinement ceremonies.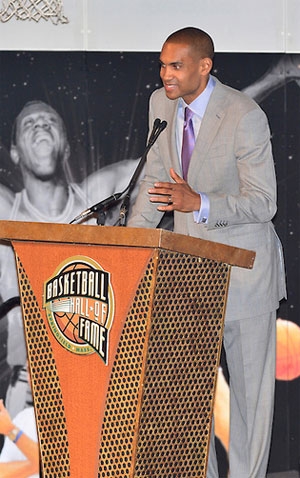 Hill accepts his award at the Basketball Hall of Fame on September 6, 2012.Photo: Richard Orr/Basketball Hall of Fame
According to the official Hall of Fame website, the three winners met criteria, including embracing the core values of the game through hard work, dedication, and resilience; striving to continuously improve the community they serve; and making an ongoing commitment to others.
These qualifications extend beyond the sport of basketball as winners also must reflect the values of Harlem Globetrotters chairman Mannie Jackson's life-long mission to overcome obstacles and challenge the status quo, while also taking responsibility for personal actions and seeking the highest standard of excellence.
"We are proud to honor three of the most deserving selections since the award was established," Jackson said. "Having known all three personally, I admire their sustained work and contributions to both the game of basketball and their communities." Hill, 39, was chosen based on his "positive attitude, strong work ethic, and moral code."
More: Watch Grant Hill's Speech
He was recently awarded the key to the city in his hometown of Reston, Virginia with proceeds from that reception going to the Medical Care for Children Partnership, which provides medical services for children in need throughout Fairfax County.
In 17 NBA seasons, the Clippers' forward has received a number of other accolades for his civic involvement. Sporting News named Hill one the "Good Guys in Sports," he was the 2001 Richard and Helen DeVos Community Enrichment Award winner, and with his wife, Tamia, they have led multiple foundations, including the Tamia & Grant Hill Foundation. While a member of the Pistons, Hill appeared on behalf of Foot Locker and Fila, at a Detroit middle school to start a program designed to replace backboards in 250 area schools, and GMC Trucks sponsored his visit to the Michigan Special Olympics women's basketball team.
"Grant has been a leader on and off the court for a long time in this league," Clippers head coach Vinny Del Negro said. "I'm happy he was recognized by the Hall of Fame for his contributions to the game. There's nobody more deserving of an award like this."
Beginning in 2009, finalists for the Human Spirit Award were grouped into three categories, representing the professional, amateur, and grassroots levels of basketball. Hill is the second consecutive Clippers player selected as the representative from the professional category. Guard Chauncey Billups won the award last season. "[Winning the award] says a lot about the character of Grant and Chauncey and the kind of players and people they are," Del Negro said. "I talk all the time about doing things the right way, and these guys have done things that way their entire careers."