by Mark Medina, original article on InsideSoCal.com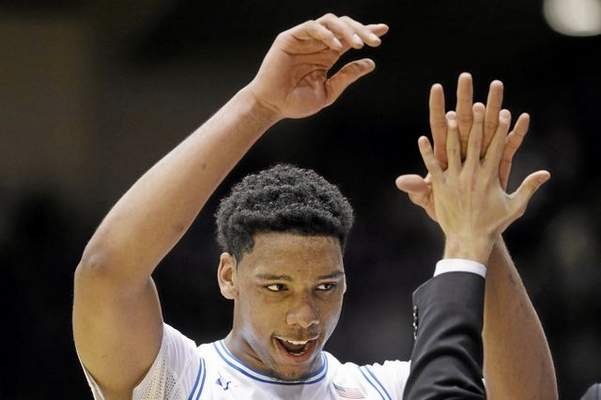 Duke freshman Jahlil Okafor is seen by many as not only the most polished big man in college basketball, but possibly the top player should he enter the 2015 NBA Draft. (Gerry Broome/The Associated Press)
Below is the first part of a occasional series with NBA analysts providing their take on the Lakers' needs heading into the 2015 NBA Draft on June 25. Below is a recent interview with NBA TV/TNT analyst Grant Hill.
If the Lakers land the number one pick in the draft lottery [on May 19], who should they pick?
Hill: "Obviously the Lakers are kind of preparing for the future. But they still want to remain competitive with Kobe [Bryant[ in the equation. You have a very good young piece in Julius Randle already there. I'm assuming he will be healthy and able to return at a high level. So I like going with one of the bigs, either Karl Anthony-Towns [from Kentucky] or Jahlil Okafor [from Duke]. They're young and can really be a cornerstone for the future of that franchise. They're as good as post players as we've seen come through the draft in quite some time. I'm okay with that. I hate answering that question, not that I'm trying to avoid it. But it's a hard question to answer when you get the No. 1 pick. But I think the general consensus is if you have the No. 1 pick, you pick one of those two guys. That's what I would probably do."
How would you compare Okafor and Anthony-Towns?
Hill: "They have some similarities, but there are some differences in some areas. Okafor is as a polished big guy for his age as we've seen in quite some time. He can come in offensively. He is so skilled. He has such a great touch and feel around the basket. He can come in offensively and put up some very good numbers right away. I think Towns has a little bit more versatility defensively. He can be a good rim protector. I don't know if he is as polished offensively as Okafor. But he can do so many things on the court. There's some similarities in some respect and some differences with what they do. I think both players will be great players."
Who would you choose between the two?
Hill: "It's hard. I like Okafor and I've seen more of him. I've watched and gotten to know him more and I like what I see. But I really don't know Towns that well. I only saw him play live in person one time. That wasn't one of his better games and his team didn't play well. They lost to Wisconsin on Final Four Saturday. So it's unfair for me to pick one. I like them both. But at this point, I would probably give the nod to Okafor. I'm more familiar with him and spent considerable amount of time with him and watched him both in practice and in games and in person live. I'm more familiar with what he does."
Where does Okafor and Anthony-Towns have the edge over Kentucky's Willie Cauley-Stein?
Hill: "Willie Cauley Stein has a different game. He's hugely athletic and not as tall on the offensive end as the other two guys. But he's a great defensive player. I've see him as a Tyson Chandler. Tyson Chandler has been a great player, defensive player of the year and all-star a number of times and was on the Olympic team. I'm not saying he's a carbon copy of that. But he's a defensive guy and very athletic. I didn't see him with a lot of back-to-the-basket stuff. I didn't see him up close. But in pick and roll, he can be huge with the spacing and shooting that exists in the NBA. For him, a lot depends on where he goes and what's the style of play. But I don't know if he is as polished on the offensive end."
So does he need to establish a post game?
Hill: "I don't know if that's his game. I think he's more of a Tyson Chandler type who gets a double double, can get a lot of blocked shots and be an elite player in this league. He never was a post-up or back-to-the-basket kind of player."
I presume you're also familiar with Duke's Justise Winslow. What are your impressions of Winslow's game?
Hill – "I saw him play in pickup games last year before the season started. I felt like he could be a sensational pro. He had the upside to be a star. I think he's got an ability to play on both ends of the court. You don't see that a lot from young players, particularly from the perimeter. He has some mental toughness that's very impressive. He became sort of the go-to player for Duke. He was not afraid of the moment. He was a guy who didn't mind sharing the spotlight with someone else and not necessarily being the guy.
I also love the idea to get someone with so much potential and promise, to learn from one of the best in Kobe Bryant. Kobe will push him and teach him. The beauty in having a guy like Okafor or Winslow or Towns or anybody for that matter, to play for a legend in Kobe Bryant, who has legendary workouts and approach to the game will help them tremendously. Most top picks are not coming in playing with a Hall of Famer like Kobe Bryant. So for a guy like Winslow to learn from him and see him as a role model, that will be huge for his development and any young player for that matter."
With Winslow, do you almost seeing him benefit from playing with Kobe the most because of his position?
Hill: "He might be a two at some point. But he has an impressive skillset. He's very athletic and he can improve and he will. He has a chance to be an All-Star in this league. At some point, yeah, I think he has that kind of talent and ability. He has a huge, huge upside."
What changed about Winslow's game when you compare his regular season to the NCAA tournament?
Hill: "He was dealing with a bruised shoulder and broken rib most of the season. He was not at his best. I think the most important thing is he got healthy. When he got healthy, his ability at his position to defend and score and be effective really separated Duke from everyone else with how they were able to get on a roll and play at a high level at the end of the season. It was his defense and ability to dominate in a number of different ways on the defensive end and push the ball in transition to creating for himself and teammates.
He was just making big shots and big plays. That was the most impressive. When the team went on a run and Duke was struggling, all of a sudden Winslow hits a three and goes coast-to-coast on a layup or makes a spectacular block. He's just making winning plays at the right time. That's one of those things you can't teach. It's a certain quality you want on your team. He really showed me. Beforehand, it was hard to judge him because he was hurt. But watching him at that time and watching him in person, I was just like, 'Wow, this guys is pretty special.'"
How does Arizona's Stanley Johnson compare?
Hill: "I think he's a very talented one too. But I didn't see as much of him. I'm a big believer in watching guys in person. You see a lot more and you get a better feel. There are certain things you can't get from television. He's a stud as well and very well may be a top pick. He's an athletic and versatile player that could do a number of different things on the court. This draft is shaping up to be a pretty good one. There's some really good players at the top. If you have the first pick or the fifth pick, even maybe all the way to a 10th pick, you can get a good player that will be serviceable right away."
Considering Jordan Clarkson's development, to what degree do you think that will influence whether the Lakers put as much priority in pursuing a point guard in the draft?
Hill: I don't know. The Lakers can take a number of different approaches to this. The beauty is they have a lot of decisions they can make. But it's also tough. In some respects, you want to start over and rebuild. But you still have Kobe there, who's going to bring a certain expectation. It's a weird spot there in terms of what exactly is their goal. What are they trying to accomplish? Are they trying to prepare for the future? I would assume they are. Do you go big or go small? Do you try to get a serviceable guard, a point guard? Do you try to get a big guy? These are decisions you have to make and there's good options there at all the positions. A lot of it depends on the direction they want to go."
What's your impressions of D'Angelo Russell's game?
Hill: "I thought he was really skilled. He can make plays. He's very crafty with the ball. He's an underrated passer. He has a real special talent and has that 'it' factor that you can't teach. In a league that is dominated by point guards, he is a young player that has a great command and ability to handle the game. He had some habits I saw that at times I didn't like. But that's attributed to his youth. But he is an elite player and great feel and shoots the ball, great off the dribble and fantastic passer. He has a chance to be really special.
What were the habits you didn't like?
Hill: "It was little things. I saw something at the Big Ten [Tournament]. But I'd rather focus on the positives. He's still learning. That's the case for a lot of these guys. A lot of the players that are top guys are freshmen. They came in with the expectation of being top picks. These kids are still young and learning how to play. I think for example, Okafor, I thought he was terrible on defense. I thought he got a lot better. I thought he improved tremendously on pick-and-roll defense and defending in the post. These kids are still young. The challenge is to see who will continue to grow and anticipate which will ones will live up to the potential that they have."