By Chuck Culpepper Original article on The Washington Post
Photo above: Grant Hill (center) talks with fellow TV analysts Bill Raftery (left) and Jim Nantz (right) during the NCAA Men's Final Four. (Streeter Lecka/Getty Images)
INDIANAPOLIS — At 11, he went clear from Reston to Seattle with his father for the 1984 Final Four, where his mother's absence meant the rules did slacken. The males did not specialize in hotel-room tidiness. They ate and slept when they wished, visited all the team hotels, saw a museum per his father's cultural mandate and reveled in Georgetown's national title.
At 18, he saw the 1991 Final Four from the actual victory podium, while his father stood there on the edge of the court, a former NFL star beholding a grown-up son with a fresh disbelief. "I can remember walking out of the Hoosier Dome and looking to the sky and saying, 'I don't know what I've done to deserve this, but thank you, Lord,'" Calvin Hill said.
At 42, he — the son, Grant Hill — comes back to the 2015 Final Four as what he calls "a steward of this game." With his 19-year NBA career in the books, Turner Sports and CBS Sports asked him to join a three-man broadcast team courtside, leaving him temporarily intimidated. "A lot of times in life, you get a promotion, and you just don't think you're ready, and you just do it," he said.
They don't use Grant Hill's face as a perpetual Final Four logo, but they could do worse. As he claims to spot magic in the event, still, his face makes it seem as if little brackets roam his vessels. It would be hard to find anybody who has seen the Final Four from more — and more rarefied — angles. He has seen it as an 11-year-old lad let into the coaches' party through his father's pull, a 15-year-old who oughtn't (and didn't) go to the coaches' party because the coaches had started recruiting him out of South Lakes High School, and a 42-year-old who says, "Hopefully now, I can get into the CBS party without sneaking in."
In reporting that he has sustained his childlike view, he said, "Maybe part of it is I'm sentimental."
He has gone to a Final Four as a kid who went ga-ga at spotting Missouri Coach Norm Stewart and North Carolina State Coach Jim Valvano. He has gone to a Final Four where he walked the concourse at Rupp Arena in Lexington in 1985, gawked at stars such as Walter Berry of St. John's, tutored his father on what to watch — "He was watching the game at a more sophisticated level than I was," Calvin said — and cried when Georgetown lost famously to Villanova. He has gone to a Final Four as a Duke freshman about to play mighty, unbeaten Nevada-Las Vegas in 1991, and he has felt nervous until UNLV won the opening jump, and he stole the ball, and he went in for a layup, and that quelled his nerves.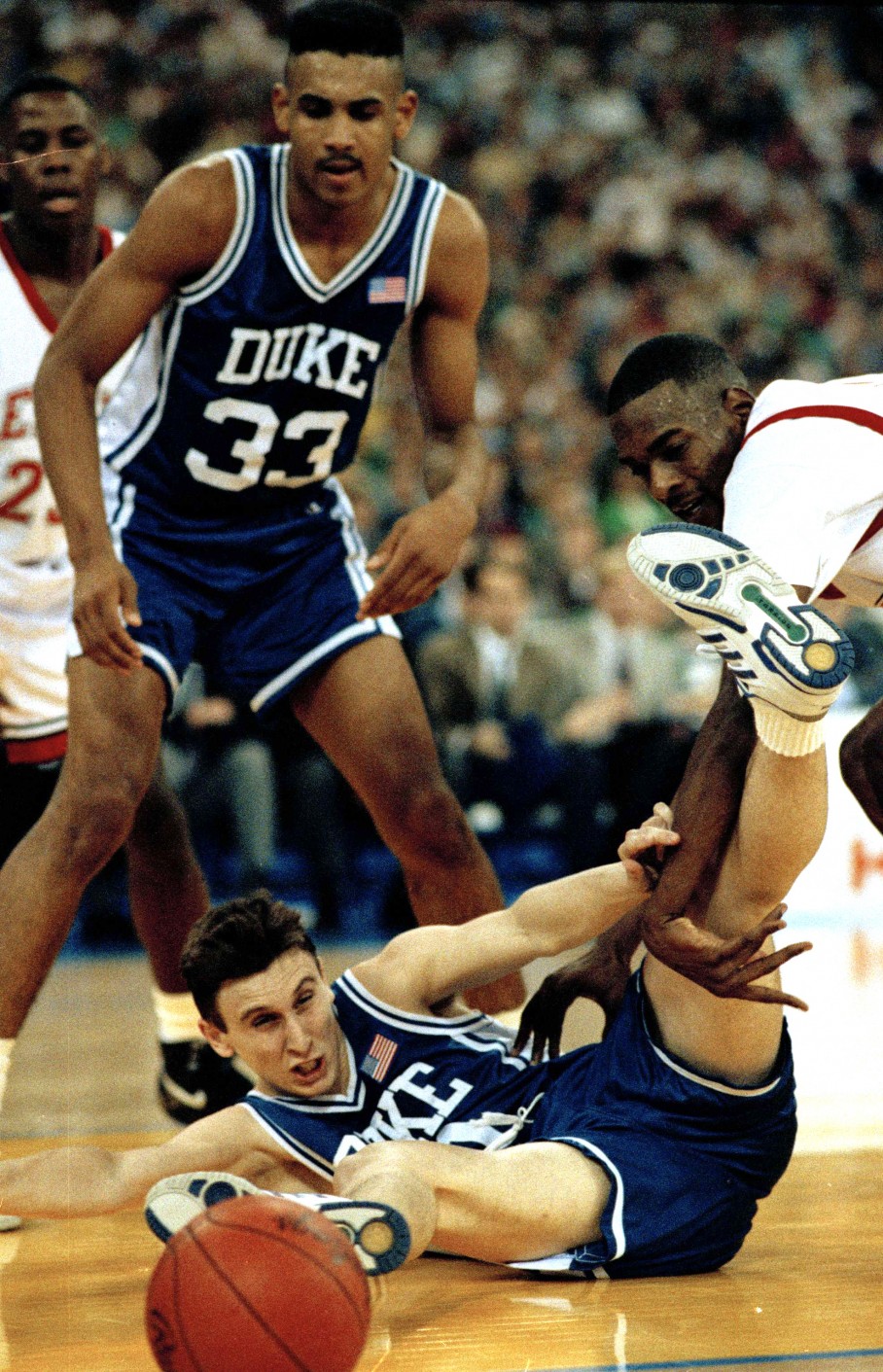 Hill (33) has seen the Final Four from a number of angles. (Ed Reinke/AP Photo)
He has gone to the Final Four as a Duke sophomore on a 1992 team exhausted from its season-long favorite role — it still won — and as the Hercules on a 1994 team that finished runner-up to Nolan Richardson's Arkansas. And now Hill reaches the Final Four for yet another closing Monday night, on the sport's biggest broadcast, for the Wisconsin-Duke final. Said analyst partner Bill Raftery, "I told him it's become the longest walk, walking out of a place with him, 'cause I've got to wait every five feet for him to sign an autograph or take a picture."
And: "He's got a lot of juice for it."
But for the genesis, he came to the Final Four as do most. "You know, it's funny, I was a fan," he said of those 1980s. "Like, I hated St. John's. I hated Syracuse. Those were the rivals (of Georgetown). So I understand the passion that you have. Now, I've learned to appreciate and kind of love Lou Carnesecca and (Chris) Mullin and what they did (for St. John's), but at the time as a kid it was like, 'Ugh!' So yeah, I lived it. I didn't quite paint my face, but I was a diehard fan."
Michael Jackson, the Georgetown point guard from 1981 to 1984, had grown up down the street. Janet Hill, Grant's mother, had snared some season tickets. Michael Jordan, the North Carolina wonder, had hit the shot to beat Georgetown in 1982, and the new Hill family Betamax made its first recording with that. From there to 1990, Grant watched that tape "maybe 500 times," he said.
Soon enough, Calvin Hill hatched the idea of father-son trips and asked Grant to choose a destination, and when led to five years of Final Fours, it also led to a parent's wish. "The father in me wished I could buy this experience for him, and he could play on one of these teams," Calvin said.
Then — good grief — he did. As he returns again, so does Calvin, and for a spokesman, the NCAA tournament could do worse than a former running back in Dallas, Cleveland and Washington: "It captivates the country. It involves the country. It involves the country in a different way than a World Series or the Super Bowl. It involves every part of the country. If you're in the ACC, you've got somebody, or if you're in the Ivy League. As difficult as it is for me, having gone to Yale, I'm rooting for Harvard. Of course, I'm also rooting for Duke all the time. But everybody has skin in the game. It's just a wonderful, wonderful three weeks of unmitigated joy."
This time, with Indianapolis again and Grant again, it got Calvin thinking about "how circular everything is." He said, "It's sort of surreal to me to see him in that (TV) role." He also said, "I just think he has an understanding that the game, it's a beautiful game, like the Brazilians talk about soccer."
He also said, "Jeez, we've come more than 360 degrees."